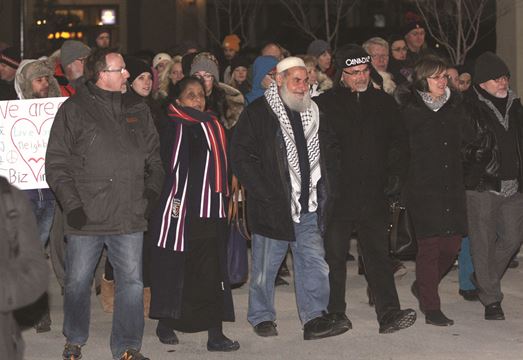 Last Thursday between five and six hundred people walked from the Belleville mosque to a candlelight vigil behind City Hall in memory of the six men brutally murdered at a mosque in Quebec City, and in solidarity with our Muslim brothers and sisters here.
This was a meaningful occasion and many members of our United Syrian Refugee Sponsorship Belleville group were in attendance. People kept saying "hi David" and because they were encased in parkas and scarves I kept asking "who's in there?"
On Sunday morning during worship I read this lovely note from Jerry Saleh, an active member of the mosque who is on the Belleville Inclusivity Committee. We've come to respect and love Jerry because he has been a tireless worker with the family members we have sponsored, soon to number twenty-three.
On behalf of all the members of the Islamic society of Belleville we thank you very much for joining us in unity and sharing the loss of our Canadian Muslim brothers in Quebec city. It did meant so much for every one of us.
I can't find enough words to express the gratitude for everyone was in the walk or who was with us in heart and mind. But after all this is Canada the land of the golden hearts. In unity we stand and our diversity makes us stronger.
Jerry
The situation in Syria continues to be a horror, and we are well aware that the families we have sponsored are here because their lives were literally and figuratively blown apart. Still, we thank God for the partnerships and friendships which have developed with those of other congregations, denominations and faiths.