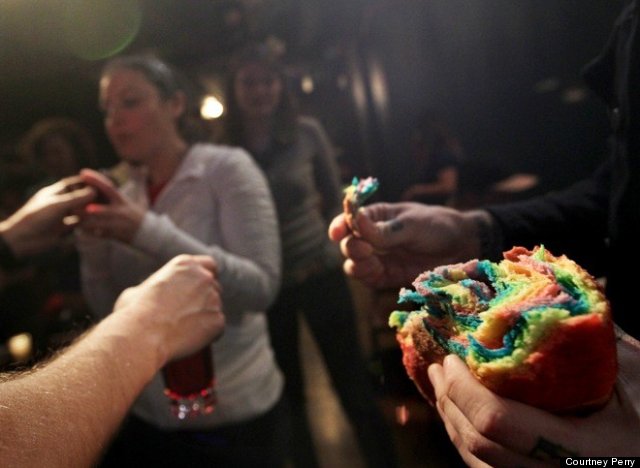 For many years Ruth, my wife, has made the bread for communion in congregations where I have served and she has been a member. It began when she had a modest baking business and it bothered her that "the body of Christ" was represented in miniscule cubes of Wonder Bread. The bread she makes is aromatic, substantial, whole grain bread, cut in pieces large enough to have the sensory sensation of taste. The communion coordinator here at Bridge St. was delighted when the subject was broached.
Why then was I little unsettled to hear about the "rainbow" bread at a communion service celebrating Minnesota becoming the twelfth US state to sanction same-gender marriage? The congregation is mostly young adults and takes an edgy, alternative approach to worship and life together. It's pastor is Jay Bakker, son of disgraced TV evangelists Jim and Tammy Faye -- remember them? He was disillusioned with religion for a time but has returned with this alt approach in a congregation called Revolution.
Once I got over the initial jolt I made my peace with their choice. I would much rather hear about a faith community of young adults using unusual symbols to express their Christian faith than listen to older adults bemoaning the disappearance of their own children and grandchildren from the church.
Don't worry, I won't try to persuade Ruth to get out the food colouring when she makes the bread for communion this week.
What do you think, or more importantly, what do you feel? Is this a sacrilege, or a bold and meaningful statement of inclusion in Christ? Would you be able to swallow this symbolically, literally and figuratively? There are teens and other young adults who read this blog. What are your opinions?