We spent four weeks on Change Islands, Newfoundland this summer, as many of you are aware. These two adjoined islands are alongside the better known Fogo Island, but we appreciate their relative anonymity. There aren't as many short-visit tourists as is the case with Fogo. Many of the people from "away" have purchased homes which have been empty for years, renovated them, and spend the summer.
We had lovely visits with a number of residents who have been on Change Islands their entire lives. Our long-time association with the area gave us that "in." We also met some of the seasonal newcomers, including Wayne and Denis, a couple from Montreal. We went to their creaky old saltbox house for brunch on our last day there. They too explore many of the coastal trails of the islands and we got into conversation about the spirituality of walking, agreeing that it is a form of prayer.
Denis, who works for a Quebec publisher, told us about a book project he's working on for a Fall release about the redevelopment of what was the Oka Trappist monastery in Quebec. We may be vaguely aware of the community because of the cheese, which they no longer produce. The book, with plenty of photos, will be entitled Val Notre Dame: L'Abbaye dans les Bois - it is the abbey in the trees. This is the community's description of what has transpired through its history and over the past fifteen years:
In 1881, faced with threats of being expelled by an anti-religious government, the Trappist monks of the Bellefontaine monastery, still active in France, came to Oka, in Canada, to found La Trappe d'Oka, which flourished in the 1950s with a total of 177 monks. The monastery will become famous for its cheese: the Oka cheese.

In 2002, there were only some 30 monks left in the community. Since the premises had become too big and the surrounding area too noisy, the monks decided to move to the Lanaudière region and establish themselves in Val Notre-Dame, at the foot of the Coupée mountain. In this enchanting site and in a bright monastery of sober and modern design, they continue to search for God, still guided by the Rule of St. Benedict.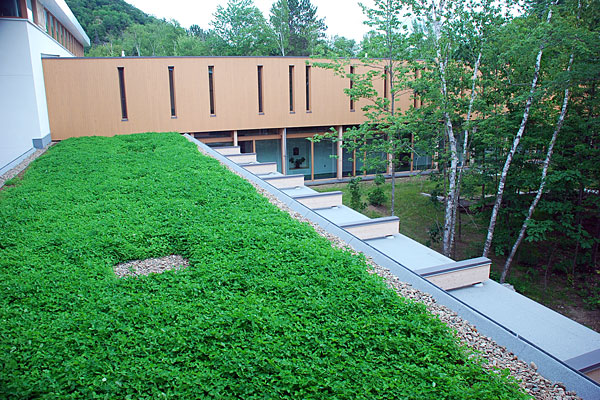 I was intrigued by this relocation because it reflects the pattern of a number of monastic communities in the 21st century. Traditional monasteries and convents are choosing to reinvent themselves because of declining numbers and a much more secular society. Many are choosing to develop a Creation-care focus, working with architects to create new buildings which are energy efficient and in tune with their surroundings. You can see the green roof in the photo above from Val Notre Dame. They are also opening their guesthouses to those who have a spiritual yearning even though they may not be Roman Catholic, or even Christian.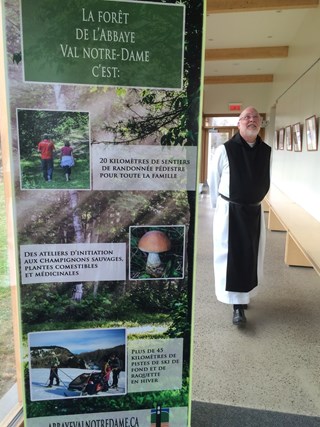 Mainline Protestant congregations would do well to emulate what is happening in these Roman Catholic communities, in terms of reimagining their purpose. It will take courage, yet there is tremendous opportunity to nurture the contemplative life in those who are searching. We can also demonstrate our commitment to environmental justice and celebrating Creation.
Comments?