Yesterday, which was the Family Day holiday in Ontario, I had a conversation with son Isaac about Vincent Van Gogh. Isaac was curious about the church buildings in a couple of Van Gogh's paintings. The most famous is the Church at Auvers, one of roughly 80 paintings he completed during the final months of his life when mental illness resulted in his hospitalization. Vincent was given the freedom to go out on day passes for rambles through the countryside and he often worked feverishly en plein air. He speaks about this painting in a letter to his sister Wilhelmina in June of 1890, a month before his death:
I have a larger picture of the village church — an effect in which the building appears to be violet-hued against a sky of simple deep blue colour, pure cobalt; the stained-glass windows appear as ultramarine blotches, the roof is violet and partly orange. In the foreground some green plants in bloom, and sand with the pink flow of sunshine in it. And once again it is nearly the same thing as the studies I did in Nuenen of the old tower and the cemetery, only it is probably that now the colour is more expressive, more sumptuous...
I have been thinking a lot about Van Gogh in recent months. There is a new book to be published next month called Vincent and the Seasons which looks at the paintings reflecting the different seasons of the year. I've requested that the library purchase it because the cost is a steep $75!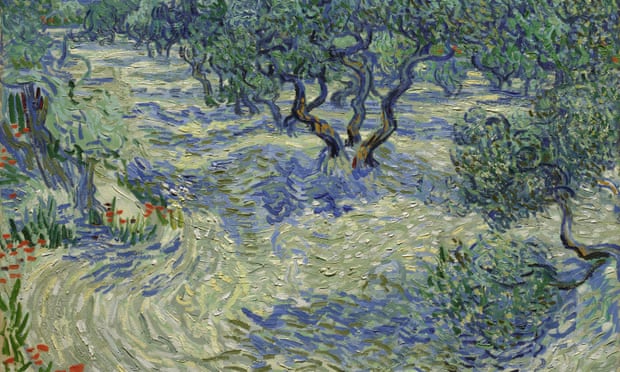 I've also been fascinated by recent news that a grasshopper was found embedded in the paint of another work of that era called Olive Trees. I know, I know, it seems odd that this intrigues me, but this chance occurrence seems emblematic of Vincent's love of the outdoors, where he was so creative and found solace for his tortured soul.
Vincent had an ambivalent relationship with churches and structured religion. He studied for the ministry but he was miserable at it, and eventually abandoned his plans. Even though he fluctuated wildly in his religious convictions, at times declaring himself an atheist, he found comfort in singing hymns, often doing so during his rambles.
This is the way I want to imagine Vincent Van Gogh, painting whilst surrounded by the beauty of Creation, singing and humming songs of faith.
Comments?