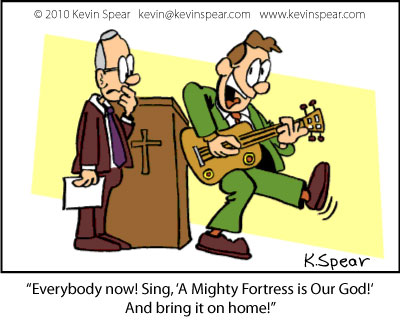 I like it when the response to blogs prompt thoughts for yet another blog entry. I have been thinking about the Family Day blog on Sunday, and comments from two individuals in different congregations who weren't in church that day. I know them both, and they are both rock solid when it comes to church attendance and involvement beyond Sunday morning. Any congregation would benefit from having them as members, and I'm glad that they had "time off for good behavior."
One of the two wondered about alternative days and times for worship in our busy culture, which happens to be a conversation I had following worship two weeks ago with a couple who have teens. Obviously they are church-goers as well. This is a conversation I've had often through the years but it seems more common in the last few.
I think having alternative worship opportunities in an excellent idea. There are questions though. When would these services occur? Who would be the target congregation? What would the format be? The Roman Catholics have been doing Saturday evening mass forever and it is often well attended, but it is their tradition. Lots of Protestant congregations have tried without success. I know I'm not at all enamoured of leading worship on a Friday or Saturday evening for seven people. I do have a life apart from my vocation and worship takers a lot of preparation and energy.
Our son Isaac is the minister of children, youth, and families in the ministry team of his congregation in London, Ontario. Part of his mandate is to create worship and gathering alternatives to Sunday morning, and they have started. It was a big step for that congregation to call a second full-time ordained minister for this role, and I have no doubt that the cost - $60,000? -- caused a lot of people to gulp.
It's a worthwhile conversation to have. We need to be flexible and innovative. I will point out that lots of evangelical and a few mainline churches are full on Sunday mornings, so there is something more than alternative worship times.
Thoughts folks?