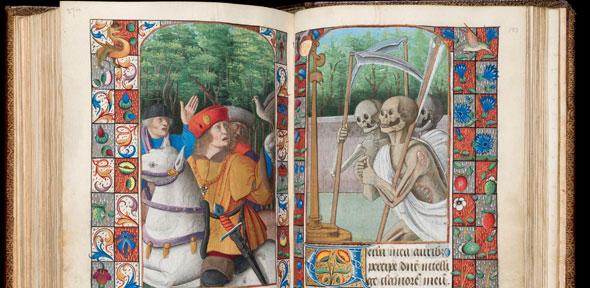 I have been fascinated by illuminated manuscripts, illustrated and coloured prayer books with combinations of scripture and science since I was a university student. They were owned by the wealthy during medieval and renaissance times. Some of their owners were not literate, but they were symbols of both piety and keeping score for centuries. At times it was the women in aristocratic families who could read and used these books for devotional purposes in the chapels of their estates. It is remarkable that so many have survived the vagaries of time, and now there is an exhibit of 150 of these manuscripts in a museum in Britain I had never heard of until last week. The Fitzwilliam is now part of Cambridge University.
The majority of the exhibits are from the Museum's own rich collections, and those from the founding bequest of Viscount Fitzwilliam in 1816 can never leave the building and can only be seen at the Museum. For the first time, the secrets of master illuminators and the sketches hidden beneath the paintings will be revealed in a major exhibition presenting new art historical and scientific research.
Spanning the 8th to the 17th centuries, the 150 manuscripts and fragments in COLOUR: The Art and Science of Illuminated Manuscripts guide us on a journey through time, stopping at leading artistic centres of medieval and Renaissance Europe. Exhibits highlight the incredible diversity of the Fitzwilliam's collection: including local treasures, such as the Macclesfield Psalter made in East Anglia c.1330-1340, a leaf with a self-portrait made by the Oxford illuminator William de Brailes c.1230-1250, and a medieval encyclopaedia made in Paris c.1414 for the Duke of Savoy.
I know, it sounds hoighty-toighty, but what a glimpse into the past.