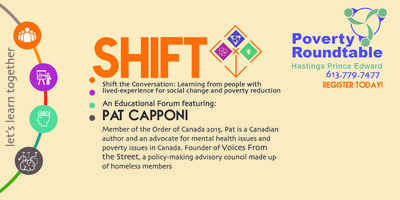 I'm soon off to attend a Belleville Poverty Roundtable seminar called SHIFT the Conversation: Strategies for Social Change and Poverty Reduction. The name is a mouthful but the event has an important focus on learning from people who have lived experience of poverty and homelessness.
I've written before about the dilemma for faith-based organizations involved in meal ministries. While we know that feeding people who live around the edges of poverty, this is not a long-term solution for stability in their lives. We agree that poverty reduction must involve basic standards for living and the provision of a basic income may be an important part of the solution. In the meantime, the provision of meals makes a difference.
We know this because our guests tell us so. In a recent conversation with several regulars at our End-of-the-Month meal I was told that the last week of each month can be rather desperate and that the meals we provide, including Thank God It's Friday frozen meals are very important before the next cheque arrives. Their gratitude was effusive. But our society has to figure out a better way.
So, I'll attend today, listen, learn, and hope that as we work together we can effect change.
Thoughts?