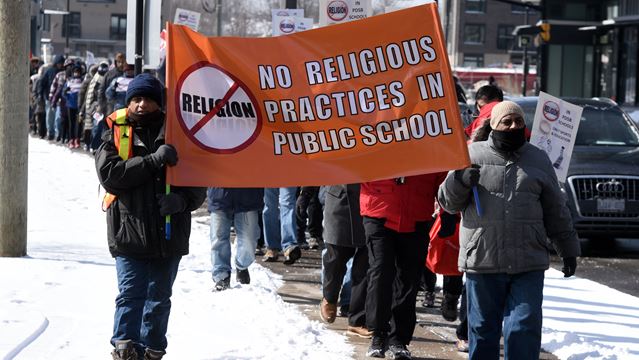 I've mentioned that when I was a 19-year-old backpacker I ended up staying in a hostel for Asian and African students in Paris, France. I am neither Asian, nor African, but I was not the only pasty white guy in the place. I grew up in Anglo-Saxon, Christian Southern Ontario, so this was my first experience of being in the conspicuous minority. This was also my first exposure to Islam, with a number of the lodgers rolling out prayer mats at the appropriate times for prayer, facing east toward Mecca as they prostrated themselves between the bunk beds.
As an earnest young evangelical Christian at the time I wasn't sure what to make of this, although I appreciated their devotion. Christians are inclined to talk about prayer, and not actually engage in it. These guys "assumed the position" five times a day.
Through the years I've encountered other Muslims at prayer, in mosques in Jerusalem, and in prayer rooms at universities. When in ministry in Bowmanville, Ontario, a group of Muslims who worked for Ontario Power Generation bought a nearby Baptist church so they could slip away for prayer on their breaks. The purchase created a stir in Courtice, but I pointed out that if they were Christians the critics would be impressed by their devotion.
You may have heard that some people in Peel region have been protesting the permission granted to Muslim high school students for prayer in Peel region. At a recent school board meeting a protestor tore up a Quran, a deeply offensive act. The Muslim students are not asking to have special exemptions from the classroom for prayer, and it is specifically for those students who choose to gather, not for the entire student body. Instead of appreciating that students of any faith should have the right to assemble for prayer in a school the argument is made that no one should pray in a secular institution.
I support this freedom of Muslim religious expression, as I do for any religious group. I understand why prayers of any group should not be foisted on others in a secular institution. But our society has not banned religion -- it is a constitutionally protected freedom -- and it is slippery slope when any particular group is silenced. The Peel situation is not the only one, and I have to wonder whether the protests will become more aggressive.
Do you object to these prayers taking place? Do you think there would be a protest if the group was Christian? I wonder if Christian groups do gather for prayer in Peel schools.