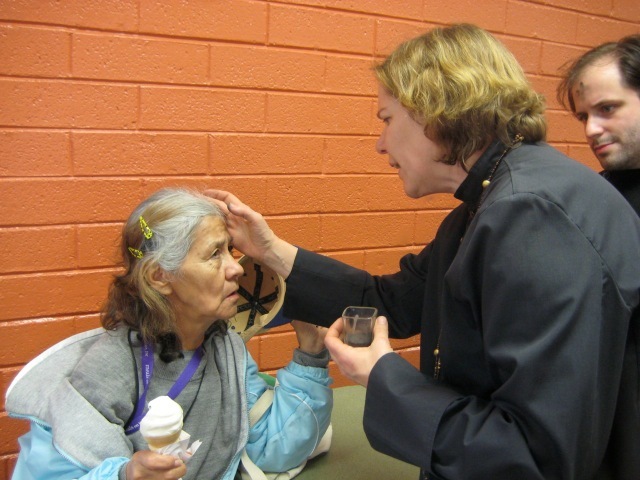 I have written before that I was introduced to Ash Wednesday while at seminary in Toronto, probably in 1978 or 1979. It all seemed odd to me somehow, this business with ashes and people walking around with them on their foreheads. The notion was so Roman Catholic to me, and I didn't take to it readily. I was sure I would never do this in any congregation I served. Except that I have for somewhere between 25 and 30 years. And now I can't imagine not including an Ash Wednesday service in the liturgical year.
In Sara Miles' latest book City of God: Faith in the Streets she writes about beginning a street liturgy Ash Wednesday service in the grubby part of San Francisco where she lives and serves. She talks about being both queasy and thrilled about walking in a procession amidst the panhandlers and druggies, people she knew from the food ministry in her congregation. But of course that was on her turf. It is a radical approach to get "out there", and of course it works a little better in San Fran than here in the Frozen North, but it still takes chutzpah.
What a reminder that forgiveness for our grubbiness and God's love for us in Christ isn't just a message we discreetly tuck away in a sparsely attended service. It is meant to be acknowledged where we live in what Miles' friend Vera calls the "most honest of days." http://www.youtube.com/watch?v=HLHp8GjUHbI Ultimately Ash Wednesday and Lent invite us into the fullness of life.
I hope you will find an Ash Wednesday service whether you have been going for years or attend for the first time.
Does Ash Wednesday have meaning for you? Are you curious but shy?