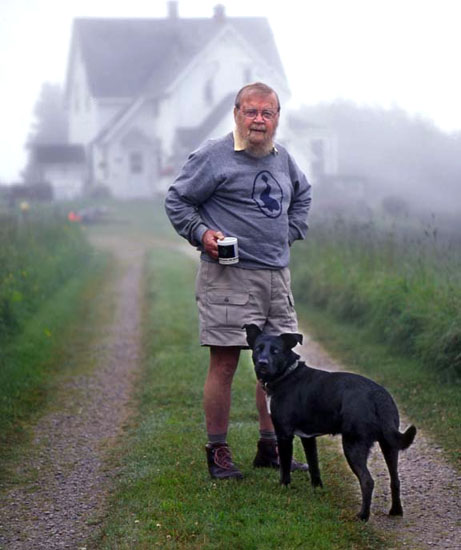 I was pleasantly surprised to discover that the Canadian author Farley Mowat was born in Belleville, the community where we now reside. I don't think he spent much time here, as his family moved on to Richmond Hill, then to Saskatoon, Saskatchewan. I do recall reading in at least one of his books about developing a love for the natural world on the outskirts of Saskatoon. I think I read Owls in the Family to one of our children, although I may have read it as an adult because I was interested in his passion for nature. It struck me that once again someone who cared deeply for the Earth was shaped by childhood experiences.
It was always hard to know what to make of Mowat. He was so polemical, doing a lot of literary frothing at the mouth about the causes which were important to him. He admitted that he didn't let the facts get in the way of a good story, which opened him up to criticism and dismissal by some. Ruth and I decided we liked his wife Claire's book about life in outport Newfoundland more than Farley's bleak A Whale for the Killing. That said, I have probably read half a dozen books by Mowat and he was an internationally read author, selling 17 million translated into more than fifty languages.
I appreciated Mowat because he was sounding the alarm on our treatment of the complex ecosystems of land and sea in this country long before it was popular. He was actually kept out of the States for his "communist" leanings. He was friends and a kindred spirit with Elizabeth May long before she became the leader of the Green Party, both of them having connections with Cape Breton.
I have the feeling that he was an atheist and figured that he has now moved on to the status of worm food, no doubt giving them indigestion. Yet I'm sure his passion and fiery outspokenness about environmental issues contributed to my Christian conviction that "the earth is God's and the fullness thereof" so we need to treat it with much greater respect.
Have you read any of Farley Mowat's books? Do you see him as a Canadian icon (he hated being called an icon!) or a bit of a crank?