As Pentecost Sunday approaches my mind turns to the chaotic events of what we call the birthday of the church as represented in art. There are so many wonderful depictions of the wind and fire of Pentecost, but immediately I recall artwork at St. Andrew's United Church, Sudbury created by Jordi Bonet, a Frenchman who became a French Canadian. Bonet was a painter and ceramicist and sculptor with an impressive body of work for someone who died at the age of 47.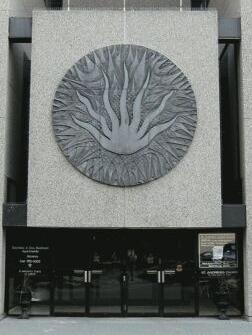 I served the St. Andrew's congregation as lead minister for eleven years which meant I entered the front doors of the modern building and the sanctuary doors hundreds of times. I loved the symbol above the entrance as well as the six cast aluminum images for both the interior and exterior of the three doors for our place of worship.
http://www.metrodemontreal.com/art/bonet/sudbury.html
There was another door in St. Andrew's Place designed by Bonet, which led into the Peace Chapel.
I have used the invocation, or at least a variation, of the central exit door on many occasions through the years:
Come, Holy Spirit Come
Come as the wind, and cleanse.
Come as the fire, and burn;
Come as light and reveal.
Convict, convert, and consecrate
Until we are wholly thine

.
For me it is a stirring call for the people of Christ to position ourselves to catch the wind or breath of the Holy Spirit, not to assume we invent the work of the church. Thank God for church leaders with the vision to include art in places of worship!
What are your impressions of these doors? Do you pray for the life-changing presence of the Holy Spirit in your congregation? What would the Spirit's activity look like?