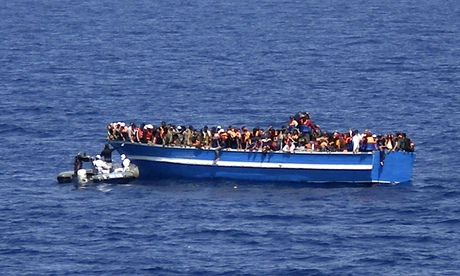 Every once in a while stories rise from the muck of violence and heartache in our world to give us hope. These stories often involve individuals who are moved by the plight of others and respond with compassion, even though there may be considerable personal cost. When we hear of them we may wonder what has motivated their kindness and determination to make a difference.
I saw recently that a wealthy couple from Louisiana has spent eight million dollars of their own money purchasing and equipping a ship to rescue migrants crossing from Africa to Europe. These asylum seekers are desperate to leave circumstances of danger and privation so they are nearly always crammed into unseaworthy vessels and many of them never make it. Amnesty International says that in 2014 more than 200,000 tried --a record year -- and an estimated 3,500 drowned.
Christopher and Regina Catrambone equipped the Phoenix and hired a crew. While they are well off, the eight million is half of their personal wealth. Their first trip out they rescued 271 people including more than a hundred woman and children from a boat that had begun to take on water.
They went on to found the
Migrant Offshore Aid Station
, which began operations last year. "We're the only game in town at the moment," Christopher Catrambone says.In just 60 days, they saved about 3,000 migrants crossing the sea in rickety wooden boats or dinghies. They then coordinated with Italy and Malta in bringing the migrants to shore. This year, they're trying to raise money to operate for six months.
The Catrambones were motivated by Pope Francis, appeal to help migrants, but who could have imagined their generosity? A priest came on board the day before the Phoenix embarked on its first patrol to offer a mass. The priest told the assembled crew that they are on a mission from God and I would have to agree.
Any comments about this mission of mercy? Had you heard about their efforts?