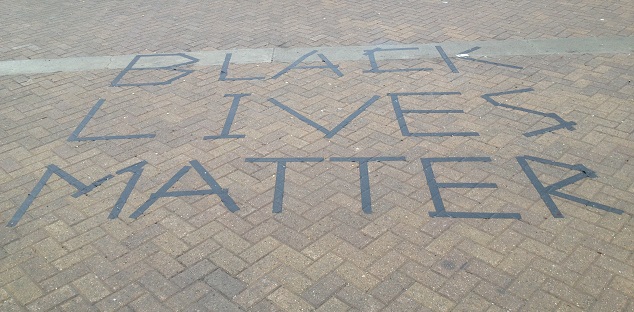 Most of us have heard about the Black Lives Matter movement and assume it is primarily about racial injustice in the United States. It is a relatively recent cause beginning in 2013 with the use of the hashtag #BlackLivesMatter after the acquittal of George Zimmerman in the shooting death of African-American teen Trayvon Martin. It appeared that Zimmerman literally got away with murder, and Black Lives Matter has been used repeatedly since then when people of colour have been killed.
We might not be as aware of the Black Lives Matter protests going on in Toronto in recent weeks. Eventually Premier Kathleen Wynne met with leaders, although Toronto mayor John Tory has been reluctant to do so. There have been a number of incidents in Canada's largest city, including shooting deaths of black people, which led to these protests.
As I've listened I have wondered if there has been any faith response, and then yesterday I saw a letter from clergy and lay persons of the United Church acknowledging that there is systemic racism in the city. There are more than 140 signers, and I know many of them.
We are deluded if we figure racism doesn't exist in Canada, even though we are generally a tolerant and diverse society. A number of media sources have shut down comments on aboriginal stories because of the toxicity of the responses. We hear plenty of nasty stuff about refugees, and there are ongoing tensions about so-called carding of people of colour in Toronto. While the issues may not be as apparent in communities which aren't as diverse, there is plenty of racism out there.
Again, this is a marvellous country and we don't want to paint a dire picture of race relations. Toronto is known throughout the world for its workable diversity. Still, I am grateful for colleagues and other people of faith who are willing to address the ugly reality of racism.