Yesterday world leaders gathered in Jerusalem to attend the funeral for Shimon Peres. Peres was involved in the political life of Israel for more than 60 years, essentially throughout the modern era of this Middle Eastern state. Canada was represented by two former Prime Ministers, Jean Chretien and Stephen Harper, as well as Prime Minister Trudeau.
Peres was recognized as a statesman and leader for a country that emerged from the dark shadows of the Shoah, or Holocaust. President Obama spoke for twenty minutes offering that "Even in the face of terrorist attacks, even after repeated disappointments at the negotiation table, [Peres] insisted that as human beings, Palestinians must be seen as equal in dignity to Jews and must therefore be equal in self-determination."
That wasn't always Peres' approach. In his earlier political life he had few qualms about Israel being a warrior nation in order to survive and he served as defense minister. As the years went on he realized that aggression from either side was not a solution. Rather, it resulted in an endless round of violence which was an impediment to peace. Conversation and negotiation were essential to a lasting peace. Some say that this was an example of Peres' pragmatism and even a desire to create a more positive legacy. Others see it as a genuine change of heart
.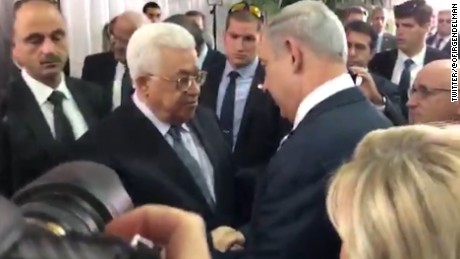 President Benjamin Netanyahu of Israel and Palestinian President Mahmoud Abbas met at the funeral and actually shook hands. It wasn't exactly the "wolf and the lamb shall lie down together," but it was a gesture that honoured Peres as he was laid to rest. Yesterday was a reminder that steps toward peace are always possible.
Comments?