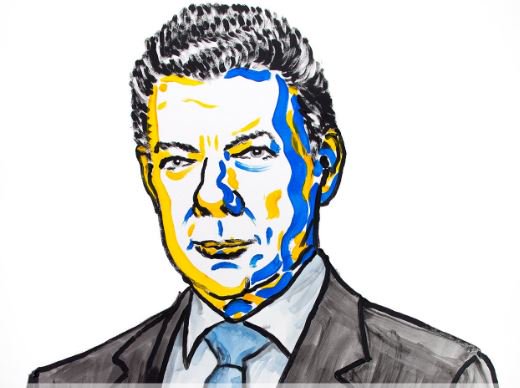 I am always curious about the choice of the Nobel committee for the annual Peace Prize. I still think awarding the prize to President Obama back in 2009 was puzzling and even embarrassing. What had he and the United States achieved toward peace at that time? What will Obama's legacy be in that regard?
This year there were interesting candidates. Pope Francis received honourable mention, but the specifics of his peace-making were a little thin. The residents of the Greek island of Lesbos were considered, for their remarkable work in addressing the tsunami of asylum seekers washing up on their shores from across the Mediterranean. The White Helmets of Syria, the rescue group which responds to the carnage in that beleaguered nation were in the running.
In the end it was Colombian President Juan Manuel Santos who received the honour for negotiating a peace agreement after more than five decades of civil war in his country. Curiously, the FARC rebel commander Timochenko was not included. This choice was a true surprise because last Sunday Colombian voters narrowly rejected their peace deal in a referendum. Santos accepted the award in the name of the Columbian people and the millions of victims of the conflict. Some are hopeful that the Nobel prize will renew the impetus for a process that was stalled by the rejection vote.
The Nobel Peace Prize can be rather political, it seems to me, and sometimes nonsensical. Yet it is important to uphold all efforts for shalom, a true and lasting peace. As followers of Christ, the Prince of Peace, these initiatives and the people who represent them should be honoured.
Do you pay much attention to the nominees for peace prizes? Are these awards important? Who would your choice have been this year?