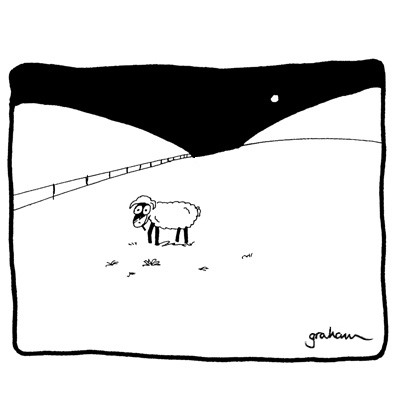 Now I lay me down to sleep,
I pray to Lord my soul to keep,
If I should die before I wake,
I pray the Lord my soul to take.
I don't sleep. At least I don't sleep long, or well. It's rare for me to achieve six consecutive hours of shut-eye, and all too often I'm roaming the house rather than fretting in my bed while my partner Ruth is in full restoration mode. I've watched some really interesting documentaries in the wee hours, and I'm always right up to speed on sports.
Part of my somnambulance is age, I'm sure, while some is the stress of work. I'm always thinking ahead, which is both gift and curse. I am also less resilient when it comes to silly and nasty people. Most congregations I've served have a handful of meanies, but they tend to "punch above their weight." I think I used to handle the petty nonsense of ministry better, but now it literally keeps me up at night. I probably have poor "sleep hygiene." which is a strange phrase. Maybe if I start brushing my eyelids...
I also pray in the darkness but I appear to have flunked out of Nocturnal Prayer 101. The irony is that I pray more at night yet too often experience God's presence less.
This is a long-winded preamble to a little piece entitled
The Theology of Sleep
which arrived in my email inbox recently.
I was surprised to find that the Bible has much to say about what John Ballie called the theology of sleep. Sleep is a gift from God:
"I will both lie down and sleep in peace;
for You alone, O LORD, make me lie down in safety." (Psalm 4:8)

It is an act of trust: I am reminded when I go to sleep that the world is in God's hands, not mine. The world will get along very well even though I am not awake to try to control things. At the appropriate time, my eyes will open and I will receive the gift of wakefulness once again.

"I lie down and sleep;
I wake again, for the LORD sustains me." (Psalm 3:5)

--
John Ortberg in "The Life You've Always Wanted
"
I suppose that I could find these observations discouraging, but I won't.
As I move into retirement I may find new things to be anxious about, but I plan to do a lot of letting go and trusting that the world is in God's embrace. I will continue to try to make a difference as a follower of Jesus, but I'll try to trust and sleep on it as well.
Now I lay me down to sleep,
I pray the Lord my soul to keep,
His Love to guard me through the night,
And wake me in the morning's light.