More than 25 years ago I was involved in a spiritual direction/ spiritual direction program called Shalem. We read extensively in the mystics and contemplatives through the ages, some of whom I knew and others I didn't. One of the "didn'ts" was Black Elk, an Oglala Lakota Native American who was born in the 19th century and died in 1950. When Black Elk was a boy he had a vision which he eventually shared with others and which was eventually published in the 1930's with the help of a transcriber. He had a fascinating life, actually present for the Battle of Little Bighorn in 1876. The following year he joined Buffalo Bill's Wild West Show, which toured Europe, including a performance before Queen Victoria. As an example from Black Elk Speaks:
And while I stood there I saw more than I can tell and understood more than I saw; for I was seeing in a sacred manner the shapes of all things in the spirit, and the shape of all shapes as they must live together like one being. And I saw that the sacred hoop of my people was one of many hoops that made one circle, wide as daylight and as starlight, and in the center grew one mighty flowering tree to shelter all the children of one mother and one father. And I saw that it was holy.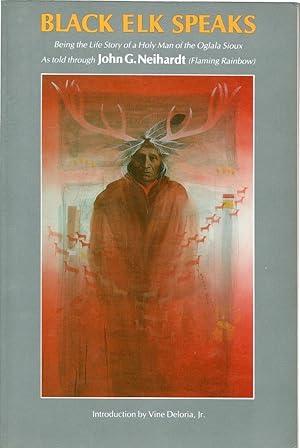 Black Elk married a woman who was a Roman Catholic and their children were baptized. Eventually he became a Catholic, so there is a blending of Christianity and aboriginal spirituality in his visions. In my "to get to" pile of books there is a new biography called Black Elk: the Life of an American Visionary.
This week the US bishops of the Roman Catholic church took steps toward the canonization of this medicine man and mystic. He became a catechist of the church, with an excellent memory for scripture. It will be interesting to see how these steps toward sainthood unfold.