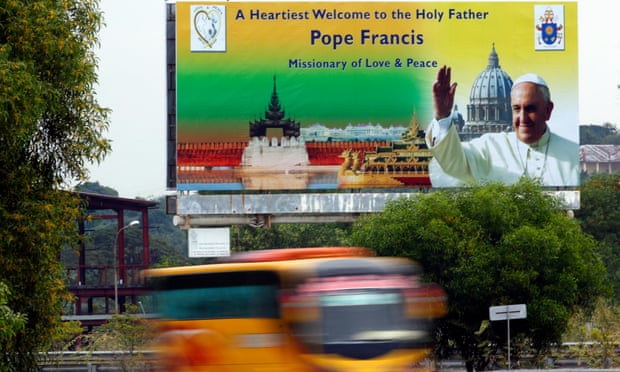 Pope Francis is en route to the Asian nation of Myanmar, or Burma, for a visit that begins tomorrow. On this Sunday we can pray for the pontiff in what will be a tremendously challenging visit to a troubled nation. More than 600,000 Rohingyas, an ethnically Muslim group within Buddhist Myanmar have fled the country to neighbouring Bangladesh due to persecution by the military. Men have been killed by the military, women have been raped, villages have been burned. Many of have died as they fled, some from starvation. The United Nations has labeled the situation a humanitarian tragedy and last week the United States spoke of ethnic cleansing as they condemned what was unfolded.
Before his arrival the bishops of the tiny Roman Catholic community in Myanmar have asked Pope Francis not to address what is happening, even to avoiding the use of the term Rohingya. The repercussions for the 450,000 Catholics (1% of the population) might be brutal if Francis is outspoken. He will likely meet with Aung San Suu Kyi, the equivalent of the Prime Minister, who has been widely criticized for her meek response to the aggression against the Rohingya, including by me in a previous blog. Yet we have been reminded that her power is limited and that she walks a fine line herself. Before her election Aung San Suu Kyi, aged 72, spent fifteen years under house arrest and was gravely ill at times. There is no doubt she has been ineffective but her situation is precarious. Kofi Annan, the former secretary general of the United Nations observes that "We created a saint and the saint has become a politician, and we don't like that." There is an excellent article about the situation in the New York Times today.
https://www.nytimes.com/2017/11/25/opinion/sunday/myanmar-aung-san-suu-kyi-rohingya.html
There were some who figured Pope Francis should cancel his trip to Myanmar as a sign of quiet protest and for his own safety and the security of Catholics in the country. He hasn't, so we can pray that he will be a missionary of love and peace, as he is described on the billboard which awaits him. God give him the grace and wisdom necessary in the next few days.
Comments?