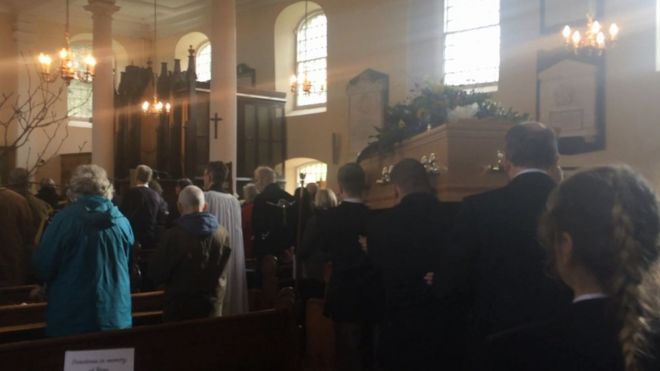 In life, in death, in life beyond death,
God is with us.
We are not alone.
Thanks be to God.
from United Church New Creed 1968
All the lonely people
Where do they all come from?
All the lonely people
Where do they all belong?
from Eleanor Rigby -- Lennon-McCartney 1966
In January an 85-year-old nursing home resident died in Cornwall, Great Britain. He had no next-of-kin, and no known friends. The local vicar, Rev. Caspar Bush, was asked to conduct a service and decided to put out the word about the circumstances. As a result 60 local people who didn't know the man attended the service as an act of kindness. A local bakery donated Cornish pasties for the reception afterward, which would have made attending worthwhile in itself.
I'm always encouraged when I hear stories such as this one. I never made an appeal for people to attend the memorial of a stranger, but I did have one occasion which was similar. One of the regular ushers in the congregation I served in Sudbury, an elderly man named Bert, died, seemingly suddenly. It turned out that he'd been living with cancer for a while but had been secretive about it.
Bert had no family and lived in an apartment above a downtown store. A bank official had been given the responsibility of addressing his estate and arranging for his cremation. The owner of the funeral homes in the city was a member of the congregation and let me know that there was no provision for a service. I called some of the folk who were on the roster of ushers who worked with him as well as members of the visitation team. We held a small service and in my recollection there were about twenty of us.
We found out some time later that Bert had left the congregation a fair chunk of change -- we were his family -- but no one knew that at the time. It was just the right thing for a Christian community to do.
We live in a time when fewer and fewer people are associated with Christian congregations and other communities of faith. One of the important aspects of life together is to say goodbye with respect and kindness. Even in the situation in Cornwall it was the clergyperson who is presumably the vicar of a congregation who made the effort to bring people together and it appears to have taken place in a church.
I'm grateful that this service happened. Any observations or comments?
Could an entire city choose quiet for a month? Today's
Groundling
blog
https://groundlingearthyheavenly.blogspot.com/2019/02/piping-down-in-cremona.html