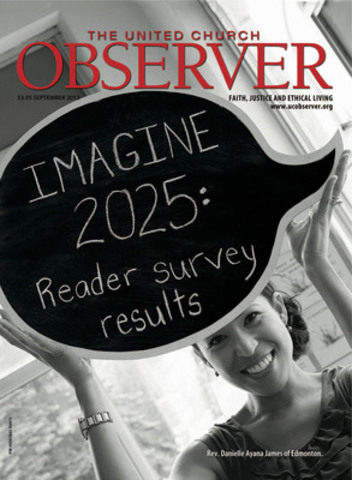 At our recent Governance Board meeting some of us were asked to consider discernment for our congregation with the image of a car travelling at night on a road illuminated only by the headlights of the vehicle. Our small group agreed that in this situation you better be making your way forward with the use of the headlights, however limited that might be, rather than the tail-lights. And you better keep an eye out for what might pop up out of the ditch.
Congregations have a tendency to discern by tail-lights rather than headlights, harking back to what worked in another time and engaging in nostalgia which often is not an accurate reflection of what occurred. How do we look ahead to the road we are actually travelling as Christ's people?
I hope you will read the article in the latest issue of the United Church Observer with the title Imagine Your Church in 2025. That's only a dozen years down the way, even though it sounds as though it is a date in a sci-fi movie. It is based on a survey of members and adherents who seem to know that the United Church is a rapidly changing expression of Christ's body. About a third of us figure we won't be worshipping in our current buildings by 2025, a remarkable number. Another quarter offer that it is "somewhat likely," which is hardly a ringing endorsement. I think that small rural congregations and those in large, downtown buildings are most vulnerable. I would like to know whether those polled from these two sectors had even greater percentages.
ttp://www.ucobserver.org/
I have a long-time colleague in Calgary whose congregation recently chose to sell its large, historic building and begin worshipping in another United Church.They will continue to meet as a separate congregation for the time being, but may eventually amalgamate. They will use the financial benefit of the sale for other forms of ministry. I am impressed by this creative use of headlights rather than tail-lights.
Can you imagine worshipping in another building than the one where you gather now? Is your congregation forward-looking? Do you have hope for your congregation? Have you ever been forced to deal with a moose running up out of the ditch on a dark night? I have, literally and metaphorically. Let's pray for life-giving choices for the future.