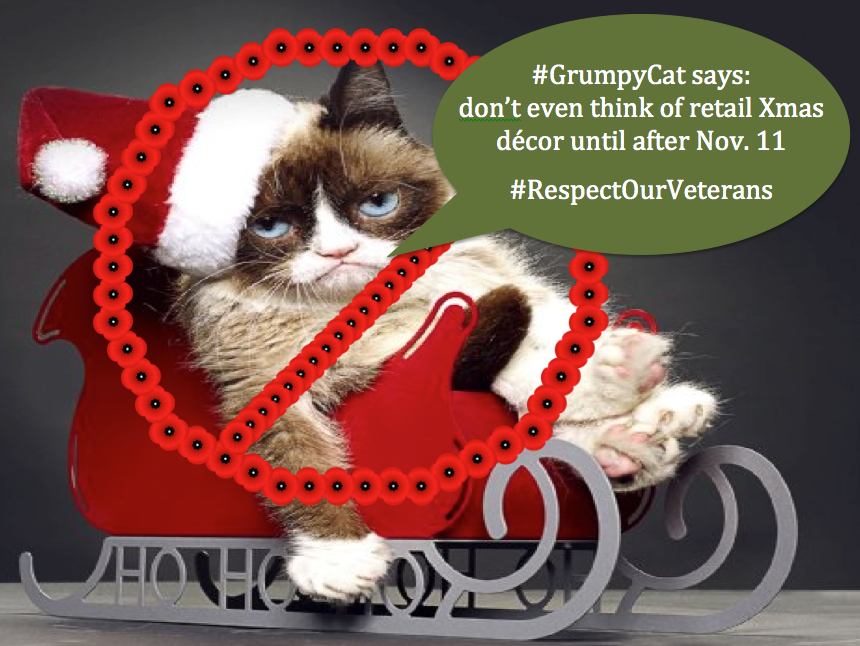 Many of us will be at local cenotaphs or taking time to listen and watch broadcasts of Remembrance Day observances tomorrow. It is a meaningful and touching experience. given that few of our World War Two veterans are still with us. This past Sunday we acknowledged the man who is our last WWII vet because the other two died in the past year.
There is a growing call for municipalities and businesses to lay off the Christmas decorations until after Remembrance Day, which still allows six weeks for the holly, jolly decorations. There has even been some public shaming of those who don't demonstrate sufficient respect to those who have served and the solemnity of November 11th. A store in Manitoba is quite direct in its choice to forgo Christmas decorations and merchandise.
Am I the only one who finds this a tad ironic? I'm all for honouring our veterans, but how about a little respect for the baby Jesus here! I'm not inclined toward the whole "war on Christmas" thing, but why do so few seem to care that the infant has disappeared under an avalanche of consumer hoopla and the frenzy to buy, buy, buy?
We have turned Christmas into the very opposite of the child born in the simplicity of a manger, and preached a message of radical trust in God to provide. Jesus decried wealth and acquisition, and yet this is the defacto "reason for the season" in our culture.
Does anyone else find the indignation somewhat contrived, or just plain odd?