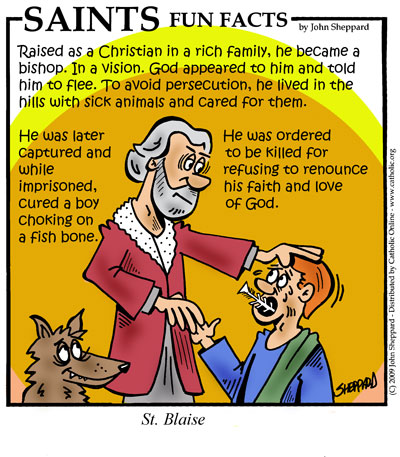 St. Blase. You've heard of St. Blase, haven't you? Well, if you are a Protestant reader, or simply a reader without an active religious involvement you probably haven't of Blase or of the many other minor saints of the Roman Catholic tradition.
I noticed that this is the Feast of St. Blase and that there is a liturgy for the blessing of throats, because Blase, who lived in the fourth century saved a boy from choking. Eventually he was killed for his faith as the "fun facts" (?) image notes. I couldn't make this stuff up folks.
While this may seem curious and inconsequential to say the least, saints days can open us to prayers that we might not otherwise consider. I figure we have promoted other figures in our society to virtual sainthood, the celebrities and sports heroes who are entertainers and distractors for a bored populace. We are already well into the veneration of the quarterbacks for this Sunday's Superbowl.
We do revere some genuinely saintly and prophetic figures, those who have exhibited courage and brought about social change, but they are a select few. Perhaps we need to pay attention to the lesser saints, whether they are the figures from the past or those we know are exemplary persons in our midst. Just a thought.
Here is a liturgy for this day. Tell me what you think about saints days and the liturgy itself.
GENERAL INTERCESSIONS
The celebrant says:
Let us now pray for those who are sick and suffering, for those who care for the sick, and for all who seek the blessings of good health.
We pray to the Lord Lord, hear our prayer.
For those who suffer from sickness and disease, that they may receive healing, we pray to the Lord. R.
For the mentally ill and for their families, that they may receive comfort, we pray to the Lord. R.
For those with physical disabilities, that the strength of Christ may invigorate them, we pray to the Lord. R.
For doctors and nurses, and for all who care for the sick, we pray to the Lord. R.
For those who seek the prayers of Saint Blase today, that they may be protected from afflictions of the throat and other forms of illness, we pray to the Lord. R.
PRAYER OF BLESSING
With the crossed candles touched to the throat of each person, the celebrant says immediately:
Through the intercession of Saint Blaise, bishop and martyr, may God deliver you from every disease of the throat and from every other illness:
In the name of the Father, and of the Son, + and of the Holy Spirit.
Each person responds: Amen.