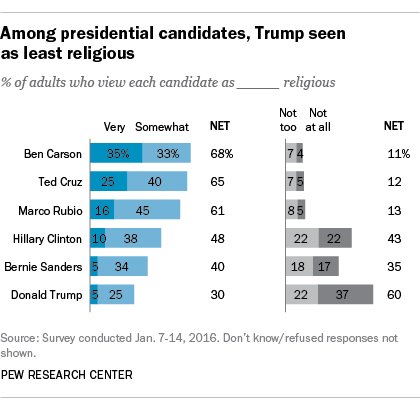 When Donald Trump spoke at fundamentalist Liberty University he quoted from "Two Corinthians," pointing out that he wasn't all that familiar with scripture. That didn't matter, nor did the fact that he is racist, lewd, or that he has trampled over people for a lifetime on his way to wealth. Liberty uphold the sanctity of marriage, while the Donald is thrice wed. No matter. He was the darling of the day, and improbably admired by many religious conservatives in the United States.
Why? These supposedly bible-reading Christians don't seem to know much about Jesus and his message. I honestly don't think they do, and that much of their faith is rooted in a harsh worldview that is more about the "survival of the richest" rather than "the meek shall inherit the earth."
The Pew Research poll shown above indicates that people don't view Trump as religious. So, why...oh, never mind. http://www.pewforum.org/2016/01/27/faith-and-the-2016-campaign/
Do you have any thoughts on this? You have been quiet readers lately, but I am curious about your take on what is happening here.