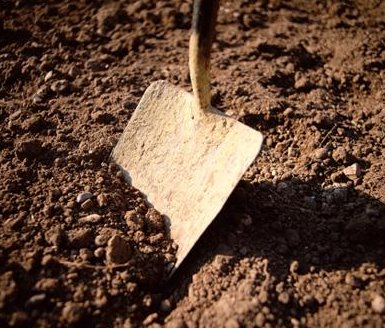 It happens. Several months without a death in the congregation, then a tsunami of losses. It has happened before, and it occurred this past week with three funerals and a Spring burial. All four individuals were fine "elders" and will be missed.
In three of these situations we made our way to a cemetery after the service for a committal, the interring of remains. With one the funeral director didn't bring the sand for the committal, a practice which I loathe. Who came up with the notion of beach sand to make the sign of the cross on a casket? I asked him to use a clump of earth instead, which he did.
In the other two family members were involved in putting earth in the grave. With one an urn was placed in the ground and the widow and I trowelled earth in on top. Yesterday the daughter of the deceased wanted the casket lowered into the ground in her presence. There was a glitch, with the planking around the grave being a bit too small for the casket, so it couldn't be lowered. The funeral home staff went into problem-solving mode, and several male mourners stepped forward to help. With a little "arm-strong" the planks were adjusted and the casket lowered.
The daughter had also arranged that the trailer of earth be brought to the grave while she was there. When it arrived she took a shovel and dumped back in the first of the soil which had been removed to make room for the casket. She shed tears as she did so, and she spoke to her beloved mother with gratitude. It was a moving moment.
If I had it do over in this 36-year journey of ministry I would have early-on purchased a small shovel and carried it with me to cemeteries. What we have created is a sanitized and death-denying experience that is not helpful to mourners, in my estimation. I should know better. On my first pastoral charge in Newfoundland family members dug the grave, and everyone present at the graveside tossed in some earth. Our hands got dirty as we said goodbye. It was messy and real, the way life is, and death as well.
We are people of a God who entered into our messiness and died and was buried and was mourned. Yes, we have resurrection hope, but we should never downplay or hide the truth of our dying.
Thoughts?