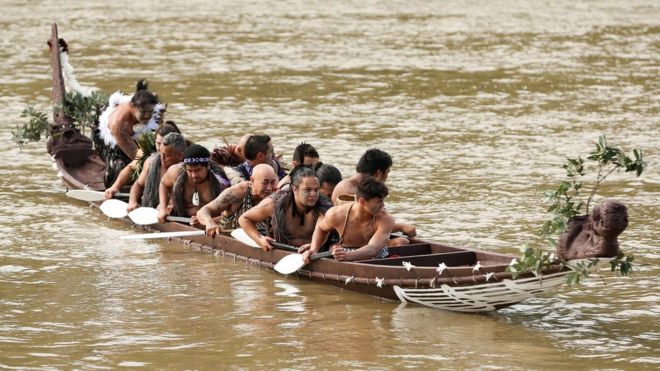 The earth is the
Lord
's and all that is in it,
the world, and those who live in it...
Psalm 24:1
(NRSV)
Today the Trump administration in the United States summarily dismissed protests, consultation, and the Obama decision to halt the Keystone pipeline by giving permission for its construction. By doing so Alberta tarsands oil can make its way to the southern United States for refining. The pipeline will cost billions to construct at a time when there is a glut of oil on the market and prices are low.
The pipeline will also cross many rivers in Canada and the United States, as well as the huge Ogallala aquifer.
This decision brought to mind a recent unprecedented decision by the New Zealand government to grant a river the same legal rights as a person. Here is how a BBC article describes the decision:
The New Zealand parliament passed the bill recognising the Whanganui River, in North Island, as a living entity.Long revered by New Zealand's Maori people, the river's interests will now be represented by two people. The Maori had been fighting for over 160 years to get this recognition for their river, a minister said."I know the initial inclination of some people will say it's pretty strange to give a natural resource a legal personality," said New Zealand's Treaty Negotiations Minister Chris Finlayson."But it's no stranger than family trusts, or companies or incorporated societies."
The Whanganui River, New Zealand's third-longest, will be represented by one member from the Maori tribes, known as iwi, and one from the Crown.
The recognition allows it to be represented in court proceedings. "The river as a whole is absolutely important to the people who are from the river and live on the river," said MP Adrian Rurawhe, who represents the Maori."From a Whanganui viewpoint the wellbeing of the river is directly linked to the wellbeing of the people and so it is really important that's recognised as its own identity."
Humanity consistently treats the environment with utilitarian contempt, some thing to be used for our benefit, whatever the consequences. This legislation invites a different perspective, and one which I can only pray will set a precedent. Actually, a small number of countries have granted legal rights to the environment. In 2008, Ecuador passed similar ruling giving its forests, lakes, and waterways rights on par with humans in order to ensure their protection from harmful practices.
The bible doesn't suggest personhood for the creatures and systems of the planet, but there are many places where we are reminded to "live with respect in Creation."
God help us all to do so.
Comments?