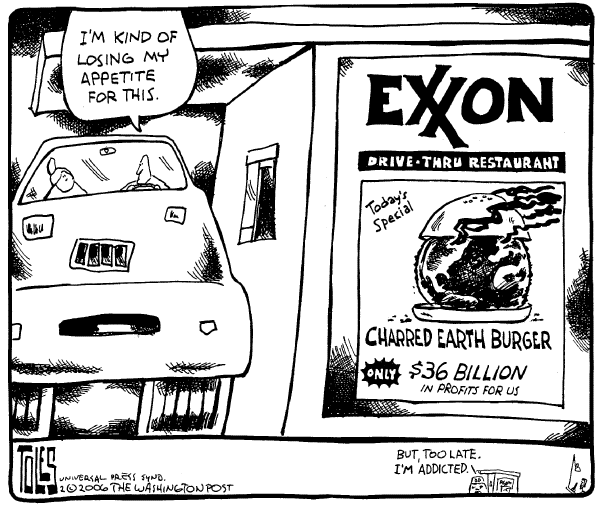 The dismal decision of the US government to opt out of the Paris Climate Change Agreement affects the fate of untold billions of Earthlings, including non-human creatures. The bizarre focus on economic gain over the wellbeing of our planetary home is sinful and wrong. I find this deeply discouraging.
There was encouraging news at the same time, although it was overshadowed by the decision of the Trump administration. ExxonMobil has decided to offer more transparent annual reports which will make shareholders and everyone else aware of the effects of their polices on climate change.
I celebrated this news, unaware that this was an initiative of the Church of England, the Anglicans. In these days of diminishing influence in world affairs by shrinking faith communities we might despair of making a difference. This is evidence of the importance of persistence and not losing heart.
Here is the description of what transpired from the Anglican Communion News Service:
Shareholders of the oil giant ExxonMobil pushed through a resolution on climate change at the company's AGM yesterday despite strong opposition from the Board of Directors. The motion, tabled by the Church Commissioners, the financial arm of the Church of England, with the New York State Comptroller, will require the company to provide annual reports on showing how the business will be affected by global efforts to reduce climate change.
The moves comes as US President Donald Trump prepares to signal whether or not his administration will pull out of the Paris Agreement, in which global political leaders agreed efforts to cap global temperature rises at two degrees Celsius.
A similar motion last year was rejected when only 38 per cent of shareholders supported the motion. This week, the motion won the support of 62.3 per cent of shareholders.
In a speech to shareholders, the Church Commissioners head of responsible investment, Edward Mason, criticised the company's non-executive directors for their stance. He highlighted that they had supported climate change policies in their main businesses, including Xerox, Merck & Co, and Johnson & Johnson.
He asked: "Members of the board, do you leave your understanding of climate change at the door when you attend ExxonMobil board meetings?"