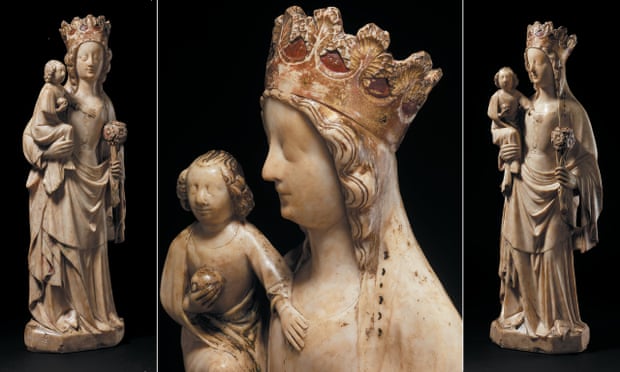 Regular readers must roll their eyes when I write about some of the rather esoteric artifacts of the artistic world through the ages. You might recall me commenting on an experience with a Madonna and Child in the National Gallery in Ottawa. We were passing through a gallery on our way to an exhibit when I saw the sculpture and had to stop. I had an overpowering urge to touch it (I didn't) and I had what I have to describe as a mystical moment in the presence of this object of devotion, centuries old. It could well have been touched hundreds or thousands of times. Often sculptures of marble or alabaster were painted but time and touch slowly wore the paint and gilding away.
Needless to say, I was intrigued by a 600-year-old Madonna and Child which has been returned to Britain and whose survival through the centuries borders on the miraculous. Here is a description from The Guardian:
The statue, which stands 75cm high, is thought to have been made around 1350 in the Midlands by an unknown and highly skilled hand. It is regarded as the best surviving example of its kind on show in Britain.
"This is evidence of the deep artistic heritage of that part of England," said [curator Lloyd] De Beer. "We know alabaster was being quarried near Derby and Stafford as early as 1330. It was particularly popular in the 14th century because of its translucent whiteness and the way it takes paint and gilding, rather like ivory."
Somehow the statue escaped the wholesale wrecking of religious artefacts in churches and cathedrals during the Protestant Reformation of the mid-1500s to travel across the Channel. De Beer and his colleagues speculated that it might have been bought by a wealthy foreigner long before the threat of destruction to religious icons that came with the dissolution of the monasteries under Henry VIII. Alternatively it could have been smuggled out later, as the danger to religious works became clear.
Much of its early life was spent in seclusion at a monastery in St-Truiden, Belgium. There it avoided the violence of the French Revolution, when many religious icons were also destroyed.
Pieces such as this one may not turn your crank, and it's hardly an accurate depiction of the peasant girl Mary and the infant Jesus. Yet it invites us into a form of contemplation which does reflect the expectant waiting of Advent. And if you can't appreciate a Madonna and Child at this time of year, when can you?
Comments?
"When you look at an object like this and think what it has endured, it is so moving,"