Apparently honesty is the best policy and confession is good for the soul. Here is my confession -- I did watch the royal wedding this morning. I was up before Ruth with the plan of going for a walk before the rain commenced. The saunter never happened. I turned on the TV and that was it. I actually watched an hour of the prelims, and then the wedding, which was marvelous in my humble opinion.
I quite enjoyed the Anglo stuff, the hoighty toighty men's and boys choir, the orchestral ensemble, the pipe organ. Even the "liturgical drag" of the Church of England clergy was impressive. There were two stirring congregational hymns, one to the tune Slane (Be Thou My Vision) and then Guide Me O Thou Great Redeemer (Jehovah).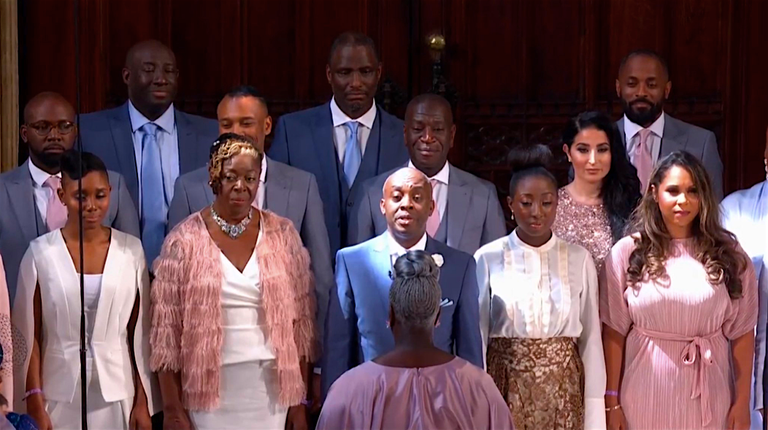 What was really powerful were the participants who were people of colour who brought a powerful message of diversity to what could have been an event celebrating colonial exclusivity and the religion to support it. A Black choir sang Ben E. King's Stand By Me, which became an anthem of the American Civil Rights Movement. The 19-year-old cellist was remarkable. And the preacher gave a rousing message of love, based on the lone scripture reading in the service -- more on that at my Groundling blog. The same choir sang a gospelly version of Amen! the likes of which has never been heard in St. George's Chapel
And yes, they sang God Save the Queen, and Prince Philip, age 96 and recuperating from hip surgery sang with the rest of the congregation.
In some ways it felt like a changing of the guard, pun intended. We won't claim that white privilege is over quite yet, knowing that the wedding cost an estimated $60 million CAD, $30 million of that for security. Still, there was something very different in the air that felt a lot like Pentecost.
Thanks to those who've already weighed in on yesterday's blog entry!
There was a lovely Earth-honouring passage in the wedding service. Read my
Groundling
blog to find out more.
http://groundlingearthyheavenly.blogspot.ca/2018/05/for-now-winter-is-past.html