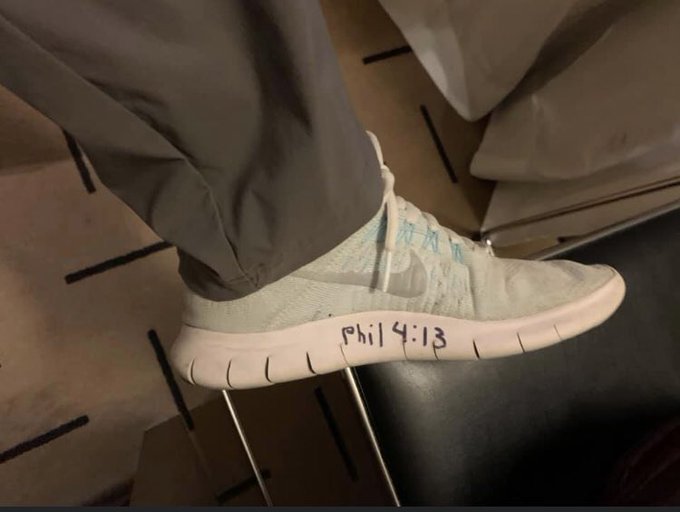 Someone posted this photo, shared with her by a front-line COVID-19 healthcare worker in the United States. This is not a reference to her friend Phil, but a self-reminder of a verse in the apostle Paul's letter to the small "church plant" community of faith in Philippi. Paul was likely under house arrest at the time he wrote this, which could be described as state imposed quarantine.
I affirmed this tweet, online, and suggested we could expand the reference to begin with verse four. This has been one of my favourite passages through the decades. I've read it to those in distress, including those in mental institutions. I've recited verses to myself in the bleak wee hours of the morning when I've struggled to find hope.
Here is Paul's hopeful message under personal duress:
4

Rejoice[c] in the Lord always; again I will say, Rejoice.
5

Let your gentleness be known to everyone. The Lord is near.
6

Do not worry about anything, but in everything by prayer and supplication with thanksgiving let your requests be made known to God.
7

And the peace of God, which surpasses all understanding,
will guard your hearts and your minds in Christ Jesus.
8

Finally, beloved,[e] whatever is true, whatever is honorable,
whatever is just, whatever is pure, whatever is pleasing,
whatever is commendable,
if there is any excellence and if there is anything worthy of praise,
think about

[

these things.
9

Keep on doing the things that you have learned and received and heard and seen in me, and the God of peace will be with you.
10

I rejoice[g] in the Lord greatly that now at last you have revived your concern for me; indeed, you were concerned for me, but had no opportunity to show it.

[
11

Not that I am referring to being in need;
for I have learned to be content with whatever I have.
12

I know what it is to have little, and I know what it is to have plenty.
In any and all circumstances I have learned the secret
of being well-fed and of going hungry, of having plenty and of being in need.
13

I can do all things through him who strengthens me.
Sunday was World Water Day and I reflect on the importance of water in these challenging, "wash your hands" times. My Groundling blog