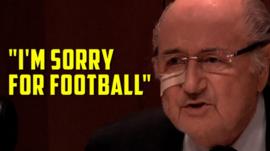 There was Seth Blatter (or is it blather?) saying he was sorry, repeatedly, for the actions of others, not his own wrongdoing. In his usual defiant manner, the man who developed the ethics committee for FIFA, the international body for soccer, refused to accept blame and responsibility for his unethical behaviour. No matter that he had been found guilty and banned for eight years. It was "poor me" from the man who was complicit in corruption.
He is not alone though. While apologies are regularly issued by those who are found guilty of various legal and moral crimes, they are rarely admissions of culpability, or are only issued when evasion and deception no longer work.
We saw that this Fall as Volkswagen finally stopped its version of dirty corporate emissions and "came clean" about deceiving the public and regulatory agencies. Millions of loyal customers, including a co-worker, bought VWs on the assumption that they were actually caring for the environment rather than violating it. Volkswagen rewarded their trust by cheating, then lying, then admitting responsibility when they had no other recourse. The fake ads around Paris during the Climate Change summit recently were clever and so true.
While Christmas is Baby Jesus season Christians connect the dots with the rest of the story. Our faith invites us to admit the truth about ourselves, to say we're sorry from the heart, and to change our behaviour for the good of others and ourselves. In the midst of greed and self-interest, that seems to be lost.
Comments?