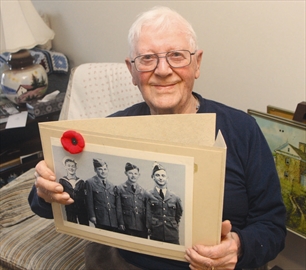 Before Christmas one of our elderly members landed in hospital after experiencing a stroke. At the time of the stroke Ken was well into his 90th year and still living independently, although with a "power assist" from family. When I saw him in hospital he was quite focused, he had recovered his speech, and he was determined not to have a long stay.
Well, he was true to his resolution. Much to my surprise, he walked into church on Christmas Eve and had the pleasure of seeing two of his precious great-grandchildren take part in the Nativity Tableau we put together at that early service.
I was taken aback to discover that on Christmas Day he suffered a heart attack and ended up in hospital again. He was recovering the family was assured, but on Sunday his organs began to shut down and within hours he had died.
I was saddened by the news and relieved at the same time. Ken didn't want to move from his apartment to a nursing home, but that was in the cards. He was surrounded by loving family at the time of his death and speaking with them until close to the end.
Of course he had enjoyed Christmas Eve and Christmas with the family, and 2014 was a good year for an old guy. In June he traveled to France as part of the Canadian contingent of veterans which commemorated D-Day. I met him on the street not long before the trip and he was excited and honoured. He found the experience very meaningful and shared his experience with others. On Remembrance Sunday he was the veteran to carry the wreath, accompanied by the same two granddaughters he watched on Christmas Eve.
I wish everyone had a full and feisty life like Ken, but that just doesn't happen. We will certainly miss him and we commend him to God's care and keeping.