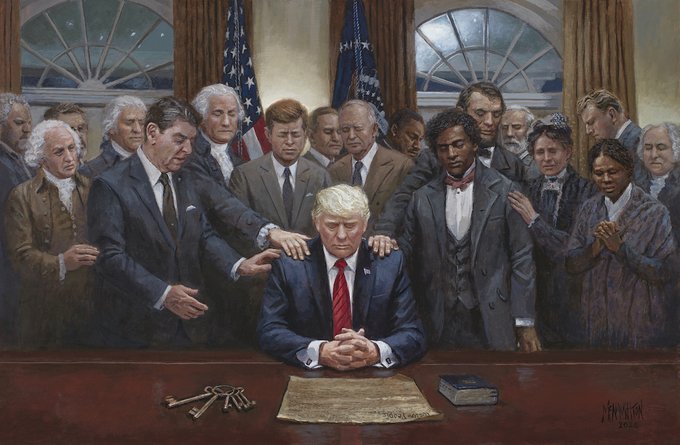 My undergraduate degree was in art history a subject that the wiser members of my Presbytery Students Committee realized was strongly connected with the history of Christianity. Art is often a prophetic voice which bravely offers a counter narrative to the spirit of the age. Works by Goya and Picasso come to mind. Contemporary Chinese artist Ai Wei Wei has been celebrated around the world yet persecuted and imprisoned in his homeland.
Ai Wei Wei
Then there is art which is propaganda for the prevailing regime, often presenting a glorified vision of the dystopia created by tyrants. Enter Jon McNaughton, an American painter whose latest work is so hideous to be almost beyond belief. As you can see, the Emperor Trump is pictured sitting as the desk of the Oval Office with a "Rock and Roll Heaven" cast of figures standing around him in an attitude of prayer. One of them is the late President Ronald Reagan, whose foundation has instructed the Trump re-election campaign not to use his likeness -- hardly a ringing endorsement.
Things do downhill from there. Three great Black figures in the history of emancipation, Frederick Douglass, Harriet Tubman, and I think MLK are in prayer behind the president. It's just a rumour that the fiery Douglass, who regularly quoted the bible in his speeches ( no Two Corinthians for him) is about to use that hand to throttle the Racist in Chief. Evangelist Billy Graham is there as well, no doubt to apologize to the others for his son, Franklin Graham. I could go on about the slave owners who are depicted, but I'll stop here.
This really is a maudlin and to my mind sickening distortion of the legacy of some of these leaders of the past, particularly those who were servants of Christ. Nonetheless this painting called Legacy of Hope is yours for a mere $27,000 dollars (US), or you can purchase reproductions for a few hundred.
Art can be prophetic, and it can be profane. I think you know where I stand on this one.
Wouldn't it be wonderful if we could "speak tree?"
Today's Groundling blog
https://groundlingearthyheavenly.blogspot.com/2020/07/speaking-tree.html
Guernica -- Pablo Picasso -- 1937