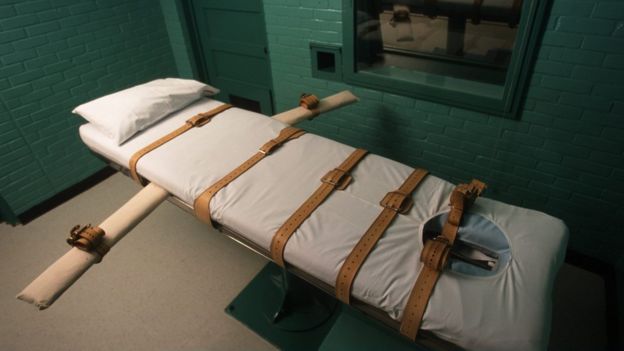 Death chamber in Huntsville, Texas
Last week the attorney general of the United States, William Barr , directed the Bureau of Prisons to begin executing convicted criminals who had killed others. In the announcement the heinousness of the crimes committed was highlighted, an obvious choice to justify federally sanctioned murder. It has been sixteen years since a federal execution and in that time the number of states which have abolished the death penalty has grown to thirty. Many consider this a disturbing step backwards.
Here in Canada the death penalty has not been carried out since the early sixties and was ended in 1976. Although some politicians and pundits predicted a rise in murders as a a result, the murder rate has steadily dropped during those 40+ years. While we would probably all agree that there are crimes which seem deserving of the death penalty it is important that the state does not perpetuate the destructive cycle of violence.
In the United States this is surely a matter of politics. The Trump administration is doubling down on hate and xenophobia, treating migrants like vermin, and casting suspicion on persons of colour, along with non-Christians. Choosing to kill criminals is a no-brainer in this strategy. Statistics show that the poor, those with cognitive challenges, and people of colour are far more likely to receive the death penalty.
There will be resistance to this decision from rights groups and communities of faith, including Christians. Sister Helen Prejean of Dead Man Walking fame will continue her work. Still, this is a sad development in a nation that is careening toward systemic brutality which will never make it great.