When the film The Green Book was in town a few weeks ago we almost didn't go see it. There was controversy over the accuracy of how the musician Don Shirley was portrayed and the criticism of yet another white redemption film was surfacing. It turned out to be a well-acted picture with a thought-provoking story, even if it was largely fictitious. It did strike me that there was very little about the actual Green Book, which was a guide for persons of colour who took the risk of travelling the expanding highway system of the United States in the period when segregation was still a dangerous reality.
According to a 99% Invisible article:
Some African-American tourists would drive all night instead of trying to find lodging in an unfamiliar and possibly dangerous town. They would pack picnics so they could avoid stopping at restaurants that might refuse to serve them. Some people would even carry portable toilets in the trunks of their cars, knowing there was a good chance they would be turned away from roadside restrooms. But in 1936, a man named Victor Hugo Green started a travel guide to make life on the road easier and safer for black motorists.
The guide listed, state by state, the restaurants, hotels, service stations, and other businesses that would welcome African-American travelers. Green called it The Negro Motorist Green Book, or "The Green Book," for short.
It turns out that Yoruba Richen, an award-winning filmmaker has a new documentary, The Green Book: Guide to Freedom, that tells the true story about black people and the Green Book. The press release about the doc offers:
The film tells the story of the rise the African American middle class in Detroit, journeys to the oasis of Idlewild (a vacation community in western Michigan where blacks were able to retreat to their "Black Eden" in peace) and the iconic A. G. Gaston Motel in Birmingham, Alabama—a pivotal location in the civil rights movement. The story of The Green Book embodies a quintessential American contradiction—while its creation speaks to the horrors of racial injustices in our past, its success shows the resolve of African Americans to thrive in a world that seemed to root for their failure by means of discrimination, violence and ignominy.
Take a look at the trailer:
https://www.smithsonianchannel.com/videos/the-vicious-kkk-attack-against-nat-king-cole/65749
I figure that we need to learn as much as we can about an era which was of tremendous importance in the long, slow road toward racial equality. People of faith were very much part of that journey, although it is far from over. It's unfortunate that the Hollywood film took so many liberties yet received the Best Film Oscar on Sunday night. Perhaps Richens documentary will get the attention it deserves in setting the story straight.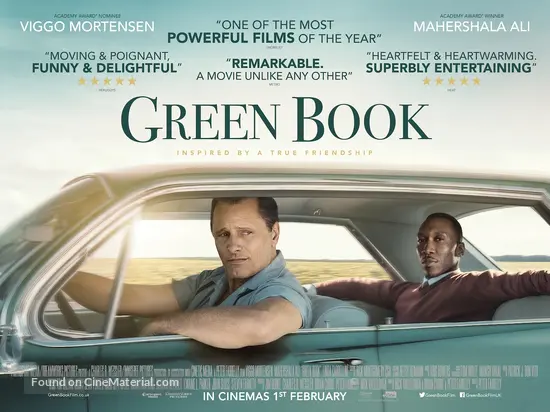 Should a body of water have rights? Today's
Groundling
blog
https://groundlingearthyheavenly.blogspot.com/2019/02/rights-and-respect-for-lake-erie.html