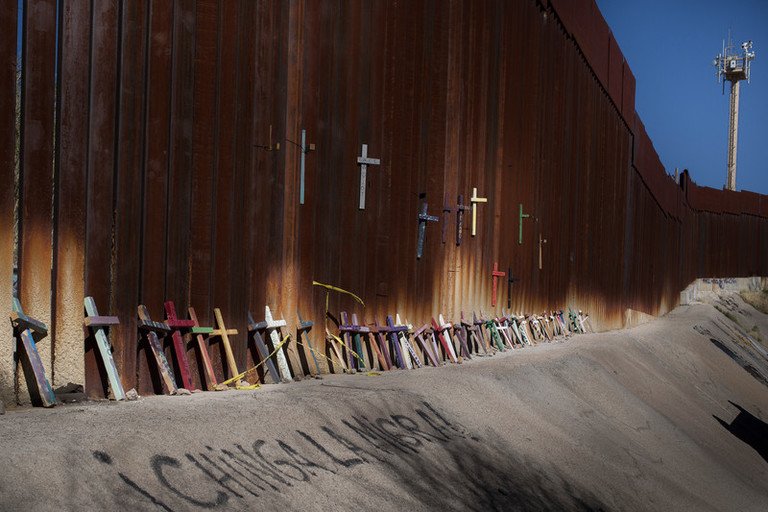 Beneath the cross of Jesus
I fain would take my stand,
the shadow of a mighty rock
within a weary land;
a home within the wilderness,
a rest upon the way,
from the burning of the noontide heat,
and the burden of the day.
Beneath the Cross of Jesus
I have a wall of a dozen crosses in my study which have come from all around the world. From time to time I make myself ponder them, so that they don't just become invisible "pretty" artwork. The cross was a gruesome but effective means of execution during the Roman Empire. Death took a long time, the punished suffered, and by choosing public places for this form of death it acted as a chilling deterrent. Efficient. Ruthless.
I came across the top photo with its array of crosses and I was immediately drawn to them, in part because I saw the picture without no context. This is a section of the existing border wall between the United States and Mexico. Why are these crosses placed here? Have people died along this section of wall? When I went looking I realized that there are other arrays of crosses in other places.
I pray that they represent the heartache of those who have attempted the crossing and been turned back, or the separation of families by this barrier. As difficult as these realities may be, they're still better than perishing. Some areas that the existing wall passes through are remote and desolate. Between 6,000 and 7,000 migrants have died in the attempt since the year 2,000, roughly 400 to 500 per year. Perhaps the crosses do represent persons, each created in God's image and each loved by the Christ who is
"the very dying form of one who suffered there for me."
Now the wall will be more of wall, a "beautiful wall" according to President Trump. The back-pedalling has already begun in terms of building an impenetrable physical structure, but billions of dollars will be spent to give the impression of total exclusion. Who knows, disgruntled Canadians may be next in calling for a similar structure.
Christian nations. Jesus must weep.