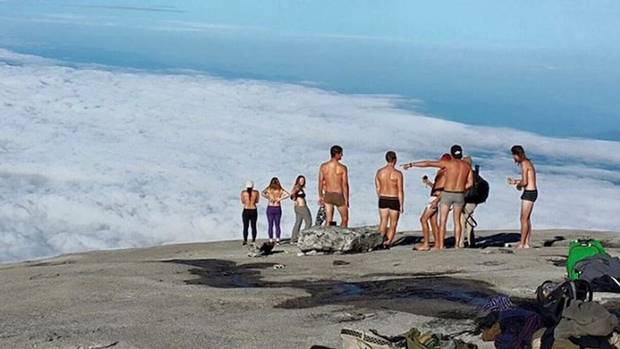 I don't really care if a number of young Canadian climbers had a notion to get naked at the top of a mountain in Malaysia. It was youthful exuberance no doubt. This is considered a sacred mountain though and their nakedness was considered an affront which triggered a 5.9-magnitude earthquake. The quake sent rocks and boulders raining down the trekking routes on the 4,095-meter-high mountain in Sabah on Borneo island, killing 18 climbers. A brother and sister have been detained and may be charged with some crime. If found guilty the two could face up to three months in prison, a fine, or both.
I assure you that I find the detention and possible prosecution of these Canadians bizarre, but once again it raises the questions about respect, or lack thereof, for what others consider sacred even if we do not. When we lived in Northern Ontario I regularly climbed Dreamer's Rock, a sacred place for the dream quests of young aboriginal men and women for centuries. We took Confirmation Classes there as well, explaining the meaning of the dream quest and encouraging the young people to have their own spiritual aspirations and dreams. Eventually though the band restricted access, so I stopped going, except by permit, which wasn't easy to obtain.
I have never been impressed by those who enter into churches or mosques or temples or synagogues without demonstrating respect, so why shouldn't the same apply to sacred sites in the natural world? Exuberance isn't a bad thing, but it doesn't trump courtesy and respect.
Should we accept the limits of religious and sacred traditions, even if we don't share them?